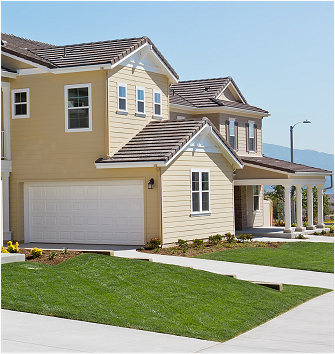 While a license is not required to become a home inspector in California, the home inspection profession is regulated by the state, and PHII home inspector certification can provide a competitive advantage. California home inspectors must meet the qualifications below. Follow the steps below to become a certified and legally-compliant California home inspector. The program cost is $699 $499 Holiday Sale! View Program Details.

The law requires California home inspectors to:
Conduct a home inspection with the degree of care that a reasonably prudent home inspector would exercise
Include an inspection of energy efficiency as part of the home inspection (if requested by the client)
Perform a noninvasive physical examination of the pool or spa and dwelling for drowning prevention safety features
Not perform repairs to a structure inspected by the home inspector (or company) in the past 12 months.
Not contain contractual provisions that limit the liability of the home inspector to the cost of the home inspection report
Not limit a client's right to commence a legal action for breach of duty arising from a home inspection report, for less than four years from the date of the inspection
Comply with the provisions in Section 7197 of the California Business and Professions Code regarding unfair business practice for a home inspector
PHII's training complies with all California requirements for home inspectors. The home inspector profession is regulated in California under Chapter 9.3 [195-7199]. For that reason it is important to understand the California laws pertaining to home inspection before you start inspecting.

One change is Senate Bill No. 969, effective July 1, 2019, which applies to all new garage doors and garage door opener installations. Homeowners must install a battery backup opener when a new door is installed or when they replace their existing opener. Existing openers in use will not have to be replaced with battery backup openers unless the door is being replaced. Failure to follow this will result in a civil penalty of $1000 per opener installed and operational. (Since it is impossible to know if/when a garage door has been replaced or modified on an older home, home inspectors must be careful to document whether a home has or does not have a garage door opener(s) with a battery back-up after July 1, 2019.)

Another change is an amendment to the California Swimming Pool Safety Act which took effect in 2018, which makes California the first state to require home inspectors to report on the safety of Pools and Spas. PHII also offers a Pool and Spa Inspection Course that you can add-on, which is essential for every California home inspector. Home Inspection Report Creator, which is included with PHII's training, has California's pool safety requirement incorporated into it.

Additional Steps to Advance Your California Home Inspection Career

1) Join a Professional Home Inspector Association. PHII pays for your first year of membership in the North American Association of Home Inspectors (AHI). You can also join a state home inspector association such as the California Real Estate Inspection Association (CREIA) that can help you with networking opportunities.

2) Apply for the C.A.R. Home Inspector Certification Program, where you can join a list of certified home Inspectors used by the California Association of Realtors. (PHII's 120-hours of home inspection training fully qualifies you to apply)

3) Pass the National Home Inspector Examination (NHIE). PHII's training fully prepares you. Passing the NHIE will help you stand out as a trusted industry expert in California. The NHIE is a challenging 200-question proctored exam that is required by some states. Veterans are eligible for reimbursement through the GI Bill.

4) Join a Multi-Inspector Company in California to gain experience, or start your own business. Established home inspection companies in California are always looking for new home inspectors to work for them. Businesses provide benefits, professional insurance and home inspection scheduling.

5) Register Your Own Business in California and obtain general liability insurance and/or errors and omissions (E&O) insurance. Home inspector insurance policies are affordable and will protect you against career-ending lawsuits. Build your own home inspection business in California and enjoy the success that follows!

Realtors, lenders, home buyers, and home owners want to make sure a home inspector has been properly trained and is compliant with all state requirements. PHII will give you a nationally recognized home inspector certification and the credentials you need to become a successful home inspector in California. Becoming certified now may also help you when new licensing laws or stricter regulations take effect.

Mold Course Add-On
Home Inspectors normally disclaim mold conditions and do not inspect for mold, but inspectors should be aware that California passed SB 655 Housing Standards: Mold, effective since 2016. This law makes California the first and only state to declare mold an enforceable substandard housing condition if there is:

any visible or otherwise demonstrable mold growth, excluding the presence of mold that is caused by inappropriate housekeeping practices or improper use of natural or mechanical ventilation.

In general terms, SB 655 requires landlords to provide housing that is free of mold unless the mold is due to the renter's lack of cleaning. Many experts feel SB655 will force home inspectors to reduce their liability by being trained in mold. PHII offers a mold inspection training package that is a valuable investment for California home inspectors.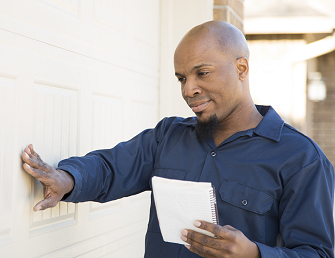 PHII's California home inspection certification is approved by real estate and building commissions, and major insurance providers. PHII is also affiliated will major professional associations including ASHI, AHI, CREIA, and FABI. The home inspector certification material for California is aligned with national standards of practice for home inspectors and is updated regularly. We teach California students the key information that they must inspect for and include in the home inspection report.

Every lesson is concise and written in clear language that is easy to understand. Our interactive California home inspection certification course is designed in-house by experienced and qualified home instructors who understand the trade and how to teach it. PHII offers the most complete, self-paced California home inspection training on the market today. You receive instant online access and have an option to receive course materials that are shipped to you. Our course management system is unmatched in features and interactive technology.

You can access the California home inspection training on wi-fi devices including tablets and smart phones, and the course can be completed in as little as 1-2 weeks. Unlike other online courses, there is no time limit, so you can take as much time as you need. Become a California home inspector at whatever pace you set, quickly or over time. Your home inspector certification course never expires!



California Real Estate Inspection Association
The California Real Estate Inspection Association is the symbol of real estate inspection professionalism in the State of California. PHII is an affiliate of CREIA and offers a course that is aligned with CREIA's Standards of Practice.


California Home Inspector Certification
And over $1,200 in BONUSES!
$289 Free AHI Membership!
$149 Free InspectHost Website!
$395 Free Bonus Courses
$399 Free Report Software!
| | |
| --- | --- |
| | $200 OFF! |
All for Only $499 View Offer



State Board:
California Contractors State License Board
Approved:
Yes
Training Provider:
Professional Home Inspection Institute
1533 NW 2nd St, Madison, SD 57042
http://www.homeinspectioninstitute.com
Toll Free 605-427-2908
Included in PHII's California Home Inspector Training
Home inspection topics covered in our California home inspector certification program
Each home inspection lesson starts by listing the objectives you will learn, followed by a short practice quiz to check your prior knowledge, the lesson content, a review and a quiz. Below are the subjects you will master as you take the online home inspection certification training course. All course objectives are aligned with national standards of practice for home inspectors.
Introduction to Home Inspection Terminology
Limits and Exclusions for Home Inspections
Site, Grounds and Grading
Exterior and Structure
Roof Components
Plumbing Systems
Electrical Systems
Attic Inspection
Insulation & Ventilation
Interior Components
Bathrooms and Kitchens
Basement & Crawlspace
Heating and Air Conditioning
Garage and Carport
Conducting a Home Inspection
Home Inspection Business Start-Up
Mold and Allergens
Radon in Air and Water
Commercial Inspections
After passing PHII's home inspector certification exam and meeting any other state requirements, you will be well-qualified to perform residential home inspections in California.
Frequently Asked Questions About PHII's California Home Inspection certification Program
How long does your home inspection course for California take?
PHII's California home inspection course can be completed in 1-2 weeks based on your past level of experience. However, you can take as much time as needed, and there are no limits on re-taking the certification exam. The total course time for training in California is broken up into hours for course instruction, field assignments, report writing and testing. PHII's California course allows you to take your time or push yourself through quickly.
How much does the California home inspection training cost?
Professional Home Inspection Institute will teach you how to become a home inspector in California for the lowest average tuition rate in the industry. The course comes complete with all required instructional materials including 100% online access and the information you need to become a certified home inspector in California . You can view the current prices by clicking the link on the enroll page or by calling 1-605-427-2908.
What is home inspection errors and omissions insurance?
Home inspectors in California should consider getting Errors and Omissions (E&O) insurance, which is a professional liability policy covering the policyholder for negligent acts and omissions that occur during an inspection. A good Errors and Omissions liability policy can help limit your out-of-pocket expenses if you are named in a lawsuit in California should a problem occur with a home inspection. Our coursework is approved for California home inspector errors and omissions insurance by major insurance underwriters.
Why should I choose PHII for home inspection training?
PHII gives California residents interactive training, experienced support, a lot of value and the most affordable tuition in the industry. Plus we offer a satisfaction guarantee. Over the years we have successfully trained and certified thousands of home inspectors throughout the U.S. and Canada, including many home inspectors in California. We have been there to support our students from California during and after the training. We have up-to-date California home inspection certification course material, and we provide a turn-key system for setting up your own home inspection business in California.
Questions about home inspector certification?
Call us toll-free at 605-427-2908
PHII California Home Inspection School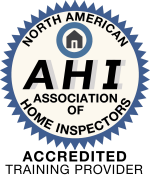 Free 1-YEAR AHI Membership for California Home Inspector Graduates
Upon achieving home inspector certification, PHII can offer all California home inspector graduates a free $289 membership in the North American Association of Home Inspectors (AHI), a national non-profit professional home inspector association.


Looking for Online Home Inspector Training Outside of California?
The first step in starting your home inspector career is to understand the path to a home inspector license. The process can be simple or lengthy depending on the state or province. In some cases you can train entirely online to obtain your home inspector license or certification. In other cases you can train online and complete field training to meet home inspector requirements. Even if your location does not require a home inspector license, you still need to be properly trained and certified in order to stand out from the competition. That is where home inspector certification from PHII gives you the advantage because we go beyond the minimum training a home inspector needs so that you can hit the ground running. PHII is also there to support you along the way as you start inspecting and need help if you run into problems. Start by understanding your state or provincial requirements by clicking the links below to popular locations where PHII offers online certification opportunities.
Home Inspector License in the U.S.
Home Inspector Licence in Canada
PHII offers home inspector continuing education and numerous certifications to help you learn more, earn more and grow your home inspection business. At PHII our mission is to provide you with the best home inspector training to prepare you for a successful real estate career, along with the support you need down the road. PHII-trained home inspectors are never alone. With PHII, your home inspector training is truly at your pace. You always have access to PHII course material and support. Every online certification course comes with lifetime access.