Manufactured Homes Course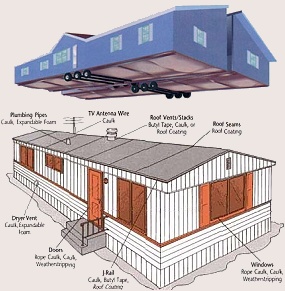 Length: 16-Hours (Online) Fees: $299

PHII's Online Manufactured Homes Course is 16 hours. Also referred to as mobile homes, manufactured homes are one of the fastest growing home inspection markets in the country. This course teaches you how to perform an inspection on a manufactured home and how to write an inspection report that properly addresses its components and systems.

PHII offers the only course that includes manufactured housing report forms.

Mobile/manufactured housing must be inspected differently than traditional site-built housing because they are built to HUD regulations which affects the design and construction methods. Some important points include the non-removable chasis, bracing and support systems, the 4-wire electrical service common to all manufactured homes, polybutylene supply piping, wind/load/thermal zone ratings, metal roofing, skirting, under wrap, and potentially hazardous aluminum wiring.

You will learn to distinguish manufactured homes that use higher quality construction materials from those that use lower quality materials. The course will teach you the different construction methods and how to recognize them. You will also learn about the HUD Manufactured Home Construction & Safety Standards, and the regulations for electrical, gas, water and sewer hookups.

As you complete each lesson, you will use interactive flash cards and take practice quizzes that will test your knowledge, generate instant feedback and provide opportunities to correct mistakes, re-learn information and re-test. Our system keeps track of your progress, so you can take a break at any time, even turn off your computer and the course will return to where you left off. When you finish the course and pass the final exam, you will possess the knowledge and skills needed to inspect manufactured homes.


Manufactured Homes Course Lessons
1. History
2. Definitions
3. HUD Standards
4. Code Comparisons
5. Ratings & Foundations
6. Exterior & Roofing
7. Structure & Crawlspace
8. Electrical Systems
9. Heating & Cooling
10. Plumbing Systems
11. Interior & Ventilation
12. Report Writing


What You Will Master

Understanding manufactured, modular, and site-built


Reading HUD Labels and interpreting Data Plates


Comparing HUD code with common residential code


Identifying the correct wind/load/thermal zone


Foundations, piers, and stabilizing systems


Reporting on Roof-overs and other homeowner-added systems


Common structural defects from lower quality materials


Inspecting the skirting, crawl spaces and belly wrap


4-wire electrical panels and proper neutral buss bonding


Recognizing fire hazards and HUD-required egress

Note that while this course instructs you how to inspect manufactured homes, it does not qualify you to perform HUD inspections for public or Section 8 housing.

Package Includes:
Online Course Access, Online Flashcards & Testing, Manufactured Home Inspection Report Addendum e-Forms, Certificate of Completion, Toll Free Student Support. Training is 100% online, no materials are shipped.
Free Bonus: $149 InspectHost Business Website
Office Hours 8am - 8pm CST Mon-Fri, 9am - 1pm Sat. Call 605-427-2908