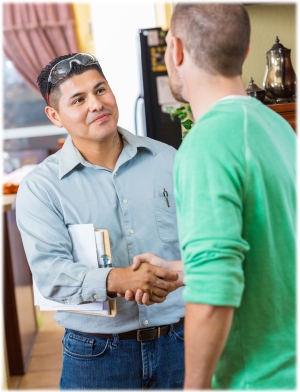 What makes a good home inspector?

Home inspection, while not physically difficult, requires the ability to look for defects that an average person might miss. The profession is more complex than it appears, requiring you to understand the interdependent systems in a home, evaluate different components and recognize potential problems. If you have an interest in the real estate field, have an eye for details, communicate well and enjoy the challenge of running a business, then home inspection may be right for you. The most successful home inspectors have good computer skills and work more efficiently than their competitors. PHII's interactive training will help prepare you to compete in today's home inspection market.


How much money do home inspectors make?

The median pay for home inspectors is $61,640 per year, according to the U.S. Bureau of Labor Statistics. Salary.com reports that the typical home inspector salary range falls between $65,849 and $86,377. (Salary ranges can vary widely, though, depending on qualifications, experience and location.) Home inspection is a growing occupation in the U.S and Canada. Over 5 million home inspections are conducted in the United States each year and the percentage of homes inspected is steadily increasing. The vast majority of homes sold in will have a pre-closing home inspection performed. There is a strong, long-term demand for qualified individuals to start careers as home inspectors. Depending on the area of the country, an average home inspection for a 2,000 square-foot home will cost between $375 to $600. Angie's List members reported paying an average of $473 for a home inspection. The region of the country, value of real estate, and volume of property sales all affect the cost of a home inspection.


What do home inspectors inspect?

Home inspectors use visual methods to evaluate the physical condition of real-estate property, usually prior to the sale of that property. A home inspector spends 2-3 hours at a property examining the grounds, structure, exterior, roof, plumbing, electric, insulation, ventilation, interior, attic, bathrooms, kitchen, basement, crawlspaces, heating, air conditioning, and garage or carport. National standards of practice determine which components are inspected and how they are inspected. The inspector later provides a complete, written report to the client.


What are the requirements for my state?

States have a wide range of regulations and some have legislation pending. For this reason it is important to start now and get "grandfathered in" before new laws are passed. To find your state's pre-license education requirements and PHII's approval status, go to the PHII home inspection State Regulations page.


Why should I train with PHII?

PHII has trained over 20 thousand home inspectors all across North America as one of the largest, most respected training schools. We have a curriculum and one comprehensive home inspector certification course, which is easier to learn from than a series of separate courses. When you train with us, you interact directly with experienced staff and instructors at our school location who are here to help you, both before and after you enroll. The same staff that provides information about our products will be there to help you with ongoing support. No wasted time, just direct help from our knowledgeable staff! There are no sales gimmicks or membership fees with PHII. We offer everyone the best tuition value everyday without fail, and we don't solicit your personal information for marketing. We respect your privacy.


PHII's course good in Canada?

Our course also meets Canadian home inspection guidelines. Home inspections in Canada follow the same national standards of practice as in the United States. Alberta and British Columbia are the only provinces that currently license home inspectors in Canada, and PHII is accredited by the National Home Inspector Certification Council in Canada to provide education towards its NHI designation. Canadian inspectors who take PHII's training also receive free membership in the North American Association of Home Inspectors. See our Canadian regulations page for more details.


Should I join a national home inspector association?

Membership in a national trade association shows clients that you are serious about the profession. Some states including Alabama and Pennsylvania require membership in a national home inspector association to comply with state statutes. For example, Pennsylvania law requires home inspectors to be a full member of a national non-profit home inspector association to be compliant. In states without a requirement, it is a business decision for the home inspector.


Is live classroom training required?

Some states require some or all pre-license education to be face-to-face and some states require field training in addition to classroom or online hours. Field training labs can be taken as scheduled at our training facility, and can be taken at anytime during or after your training. Visit out Field Training page for more information, or call us at 800-983-6322 to check on the lab schedule. Go to our State Regulations page to check the requirements for your state.


How long does the course take?

The basic home inspection course is 90 hours and the optional advanced course is 32 hours, but both can be completed more quickly based on your past level of experience. However, you can take as much time as needed, and there are no limits on re-taking exams. The total course time is broken up into 70 hours for course instruction, 25 hours for field assignments/report writing (field assignments are done on any property you select), 12 hours for course assignments, and 15 hours for testing. PHII's course allows you to take your time or push yourself through quickly. There are no constraints!


How much does the course cost?

Professional Home Inspection Institute's course comes complete with all required instructional materials including 100% online access, workbook, back-up CDs, DVDs, and other materials you need to complete the course. You can view the current prices by going to our Enrollment page or by calling 1-800-983-6322.


What is errors and omissions insurance?

Errors and Omissions (E&O) insurance is a professional liability policy covering the policyholder for negligent acts and omissions that occur during an inspection. A good Errors and Omissions liability policy can help limit your out-of-pocket expenses in the event you are named in a lawsuit. Our coursework is approved for home inspector errors and omissions insurance by all major insurance organizations. E&O insurance is a requirement in some states and requires training by an approved provider in order to qualify for coverage.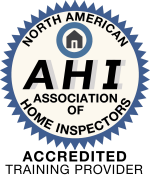 What are your professional affiliations?

We are affiliated with home inspector associations on the state and national level. PHII graduates receive a one-year free membership in the North American Association of Home Inspectors (AHI), reduced fees to apply for other associations, and reduced fees for Membership Renewal Credits (MRCs). We are also an accredited member of the Better Business Bureau with an A+ rating. For our complete credentials and affiliations, go to our Credentials page.


Why should I choose PHII?

PHII gives you interactive training, experienced support, a lot of value and the most affordable tuition in the industry. Plus we offer a satisfaction guarantee. Over the years we have successfully trained thousands of home inspectors, and have been there to support them after the training. We have up-to-date home inspection course material, and we provide a turn-key system for setting up your own home inspection business. Go to our Compare page to see how we stack up against competitors.
Policies
How do you ship course materials and tool kits?
Course materials and tool kits are shipped via UPS Ground, Fedex Ground and USPS, and typically take 5-7 business days for delivery. We ship to the U.S. and Canada.

What is the return policy?
Materials must be returned in as-new condition within 30 days of receipt. You must contact us first to obtain a return number. Returns with damaged or used items will be prorated. Refunds are credited within 7 business days of receipt of the return. Shipping and handling is not refundable.


What is your privacy policy?
The following applies solely to information collected by this web site.
Information Collection, Use, and Sharing
We are the sole owners of the information collected on this site. We only have access to/collect information that you voluntarily give us via email or other direct contact from you. We will not sell or rent this information to anyone.
We will use your information to respond to you, regarding the reason you contacted us. We will not share your information with any third party outside of our organization, other than as necessary to fulfill your request, e.g. to ship an order. Unless you ask us not to, we may contact you via email in the future to tell you about specials, new products or services, or changes to this privacy policy.
Your Access to and Control Over Information
You may opt out of any future contacts from us at any time. You can do the following at any time by contacting us via the email address or phone number given on our website: See what data we have about you, if any. Change/correct any data we have about you. Have us delete any data we have about you. Express any concern you have about our use of your data.
Security
We take precautions to protect your information. When you submit sensitive information via the website, your information is protected both online and offline. Wherever we collect sensitive information (such as credit card data), that information is encrypted and transmitted to us in a secure way. You can verify this by looking for a closed lock icon at the bottom of your web browser, or looking for "https" at the beginning of the address of the web page. While we use encryption to protect sensitive information transmitted online, we also protect your information offline. Only employees who need the information to perform a specific job (for example, billing or customer service) are granted access to personally identifiable information. The computers/servers in which we store personally identifiable information are kept in a secure environment.
If you feel that we are not abiding by this privacy policy, you should contact us immediately.
Office Hours 8am - 8pm CST Mon-Fri, 9am - 1pm Sat. Call 605-427-2908