4-Point Inspection Course for Home Inspectors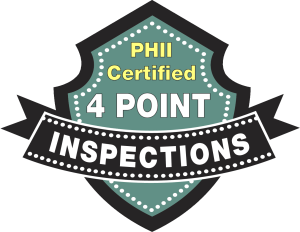 Length: 3-Hours (Online) Fees: $199

PHII's Online 4-Point Inspection course is 3 hours and qualifies home inspectors to perform 4-point home inspections and expand their business into this thriving field. The course teaches 4-Point inspections as they relate to the homeowner insurance industry. Each lesson identifies a specific section of the 4-point inspection form and how to write up the report. Our course will thoroughly cover each of the sections of the 4-Point Inspection Form.

After completing the course, inspectors are fully prepared and qualified to start performing 4-point inspections. This training is an easy way for inspectors to earn extra income while helping home owners obtain insurance. The course is also a good introduction for home inspectors and others in the real estate field who may want to expand their knowledge and training. The course focuses on the major topics that are most important to 4-Point inspections.

This course will help home inspectors quickly understand how 4-Point inspections are conducted and why clients should consider having a 4-Point inspection performed before applying for insurance. It is also a good course for other professionals who want to brush up on their knowledge or complete continuing education requirements for licensing renewal.

The online course illustrates, and explains the most important components of a 4-Point inspection and report in a simple, straight-forward manner. As you complete each lesson, you will use interactive flash cards and take practice quizzes that will test your knowledge, generate instant feedback and provide opportunities to correct mistakes, re-learn information and re-test. Our system keeps track of your progress, so you can take a break at any time, even turn off your computer and the course will return to where you left off. When you finish the course and pass the final exam, you will be qualified to start performing 4-Point home inspections.


4-Point Course Lessons
1. Introduction
2. 4-Point Basics
3. Research & Documentation
4. Electrical System
5. HVAC System
6. Plumbing System
7. Roof System
8. Final Exam


What You Will Master

Understand the 4-Point Inspection process


Identify who needs this inspection and why


How to inspect the structural building envelope


Corrective measures to pass a 4-Point inspection


The systems and components to be inspected


How to write a 4-Point inspection report


And much more

Package Includes:
Online Course Access, Online Flashcards & Testing, Certificate of Completion, Toll Free Student Support. Training is 100% online, no materials are shipped.
Free Bonus: $149 InspectHost Business Website
Office Hours 8am - 8pm CST Mon-Fri, 9am - 1pm Sat. Call 605-427-2908