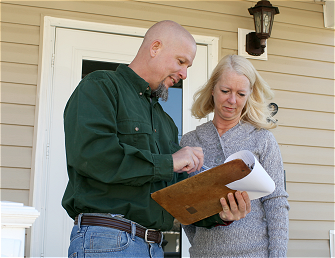 The home inspection profession is regulated in Virginia, and PHII's home inspector certification can help you get started! Virginia requires new home inspectors to complete several steps before applying for a home inspector license. Follow the path below to become a licensed home inspector in Virginia.

PHII's online home inspection training and certification course will give you the knowledge and skills to perform home inspections in Virginia. The Professional Home Inspection Institute is approved to provide the required 70 hours of education and field training needed for pre-licensing in VA, which began July 1, 2017. Applicants for an individual Home Inspector Certificate must meet the following requirements:

At least 18 years old.
High School Diploma or equivalent.
Complete approved pre-license education. (PHII is fully approved)
Pass the National Home Inspector Examination (PHII's home inspection training course fully prepares you)
Complete a designated number of home inspections under the direct supervision of a licensed VA home inspector
Submit evidence of having at least $250,000 of general liability insurance
Steps to getting your VA Home Inspector License through PHII:
(1) 35 online contact hours are obtained by completing PHII's Basic Home Inspection Course.
(2) 35 hands-on contact hours are obtained by completing PHII's field training in SD.
(3) Pass the NHIE. PHII students are eligible and well-prepared to take the NHIE and obtain their home inspector license from the DPOR in VA. There are NHIE testing locations in Alexandria, Charlottesville, Falls Church, Herndon, Midlothian, Norfolk, Richmond, Roanoke, Tyson's Corner, or Virginia Beach.
(4) Complete 25 ride-along inspections with a licensed home inspector. One method is to use your free home inspector association membership to network with other inspectors.
(5) Submit the application with a copy of your training certificate, NHIE passing score report, experience verification form and $80 application fee.
Additional Steps to Advance Your Virginia Home Inspection Career
1)
Join a Professional Home Inspector Association. PHII pays for your first year of membership in the
North American Association of Home Inspectors
(AHI). Many states also have their own home inspector associations you can join for networking opportunities.
2)
Join a Multi-Inspector Company in Virginia to gain experience, or start your own business. Established home inspection companies in Virginia are always looking for new home inspectors to work for them. Businesses provide benefits, professional insurance and home inspection scheduling.
3)
Register Your Own Business in Virginia and obtain general liability insurance and/or errors and omissions (E&O) insurance. Home inspector insurance policies are affordable and will protect you against career-ending lawsuits. Build your own home inspection business in Virginia and enjoy the success that follows!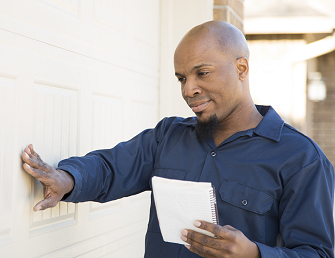 PHII's Virginia home inspection certification is approved by real estate and building commissions, and major insurance providers. PHII is also affiliated will major professional associations including ASHI, AHI, CREIA, and FABI. The home inspector certification material for Virginia is aligned with national standards of practice for home inspectors and is updated regularly. We teach Virginia students the key information that they must inspect for and include in the home inspection report.
Every lesson is concise and written in clear language that is easy to understand. Our interactive Virginia home inspection certification course is designed in-house by experienced and qualified home instructors who understand the trade and how to teach it. PHII offers the most complete, self-paced Virginia home inspection training on the market today. You receive instant online access and have an option to receive course materials that are shipped to you. Our course management system is unmatched in features and interactive technology.
You can access the Virginia home inspection training on wi-fi devices including tablets and smart phones, and the course can be completed in as little as 1-2 weeks. Unlike other online courses, there is no time limit, so you can take as much time as you need. Become a Virginia home inspector at whatever pace you set, quickly or over time. Your home inspector certification course never expires!
PHII's training will give you the knowledge to perform home inspections in Virginia. PHII students have had great success passing state and national exams, and you also receive FREE continuing education credits with your enrollment! Please check the website periodically for updates about current licensing laws or call toll free (800) 983-6322
Virginia Home Inspector Certification
And over $1,200 in BONUSES!
$289 Free AHI Membership!
$149 Free InspectHost Website!
$395 Free Bonus Courses
$399 Free Report Software!
| | |
| --- | --- |
| | $150 OFF! |
All for Only $549 View Offer



State Board:
Virginia Department of Professional and Occupational Regulation
(804) 367-8500
Approved:
Yes
Training Provider:
Professional Home Inspection Institute
1533 NW 2nd St, Madison, SD 57042
http://www.homeinspectioninstitute.com
Toll Free 605-427-2908
Included in PHII's Virginia Home Inspector Training
Home inspection topics covered in our Virginia home inspector certification program
Each home inspection lesson starts by listing the objectives you will learn, followed by a short practice quiz to check your prior knowledge, the lesson content, a review and a quiz. Below are the subjects you will master as you take the online home inspection certification training course. All course objectives are aligned with national standards of practice for home inspectors.
Introduction to Home Inspection Terminology
Limits and Exclusions for Home Inspections
Site, Grounds and Grading
Exterior and Structure
Roof Components
Plumbing Systems
Electrical Systems
Attic Inspection
Insulation & Ventilation
Interior Components
Bathrooms and Kitchens
Basement & Crawlspace
Heating and Air Conditioning
Garage and Carport
Conducting a Home Inspection
Home Inspection Business Start-Up
Mold and Allergens
Radon in Air and Water
Commercial Inspections
After passing PHII's home inspector certification exam and meeting any other state requirements, you will be well-qualified to perform residential home inspections in Virginia.
Frequently Asked Questions About PHII's Virginia Home Inspection certification Program
How long does your home inspection course for Virginia take?
PHII's Virginia home inspection course can be completed in 1-2 weeks based on your past level of experience. However, you can take as much time as needed, and there are no limits on re-taking the certification exam. The total course time for training in Virginia is broken up into hours for course instruction, field assignments, report writing and testing. PHII's Virginia course allows you to take your time or push yourself through quickly.
How much does the Virginia home inspection training cost?
Professional Home Inspection Institute will teach you how to become a home inspector in Virginia for the lowest average tuition rate in the industry. The course comes complete with all required instructional materials including 100% online access and the information you need to become a certified home inspector in Virginia . You can view the current prices by clicking the link on the enroll page or by calling 1-605-427-2908.
What is home inspection errors and omissions insurance?
Home inspectors in Virginia should consider getting Errors and Omissions (E&O) insurance, which is a professional liability policy covering the policyholder for negligent acts and omissions that occur during an inspection. A good Errors and Omissions liability policy can help limit your out-of-pocket expenses if you are named in a lawsuit in Virginia should a problem occur with a home inspection. Our coursework is approved for Virginia home inspector errors and omissions insurance by major insurance underwriters.
Why should I choose PHII for home inspection training?
PHII gives Virginia residents interactive training, experienced support, a lot of value and the most affordable tuition in the industry. Plus we offer a satisfaction guarantee. Over the years we have successfully trained and certified thousands of home inspectors throughout the U.S. and Canada, including many home inspectors in Virginia. We have been there to support our students from Virginia during and after the training. We have up-to-date Virginia home inspection certification course material, and we provide a turn-key system for setting up your own home inspection business in Virginia.
Questions about home inspector certification?
Call us toll-free at 605-427-2908
PHII Virginia Home Inspection School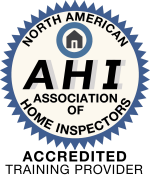 Free 1-YEAR AHI Membership for Virginia Home Inspector Graduates
Upon achieving home inspector certification, PHII can offer all Virginia home inspector graduates a free $289 membership in the North American Association of Home Inspectors (AHI), a national non-profit professional home inspector association.


Looking for Online Home Inspector Training Outside of Virginia?
The first step in starting your home inspector career is to understand the path to a home inspector license. The process can be simple or lengthy depending on the state or province. In some cases you can train entirely online to obtain your home inspector license or certification. In other cases you can train online and complete field training to meet home inspector requirements. Even if your location does not require a home inspector license, you still need to be properly trained and certified in order to stand out from the competition. That is where home inspector certification from PHII gives you the advantage because we go beyond the minimum training a home inspector needs so that you can hit the ground running. PHII is also there to support you along the way as you start inspecting and need help if you run into problems. Start by understanding your state or provincial requirements by clicking the links below to popular locations where PHII offers online certification opportunities.
Home Inspector License in the U.S.
Home Inspector Licence in Canada
PHII offers home inspector continuing education and numerous certifications to help you learn more, earn more and grow your home inspection business. At PHII our mission is to provide you with the best home inspector training to prepare you for a successful real estate career, along with the support you need down the road. PHII-trained home inspectors are never alone. With PHII, your home inspector training is truly at your pace. You always have access to PHII course material and support. Every online certification course comes with lifetime access.